From Help Wanted to Job Wanted
The unemployment rate closely tracks the business cycle and reflects the vicissitudes of economic fortunes.


Business Week. "Sign of the times: Help wanted" 11/10/1997.
"In central Florida--home to Walt Disney World, Universal Studios Florida, EPCOT center, and hotel rooms second in number only to Las Vegas--the unemployment rate is less than 3%. No one is more aware of this than Moira Oliver, director of human resources for the Hyatt Orlando. She has been forced to look as far away as Poland, Hungary, and Ukraine for men and women to make beds and do laundry for $5.85 an hour. In October, she was off to cooking schools in Switzerland and France to persuade students to do internships in Orlando hotel kitchens.
With 3,300 more spots to be filled in the area over the next six months as Disney World and Universal Studios open new attractions, Oliver admits she's in ``desperate straits. And it's only going to get worse.''
New York Times. "US job seekers exceed openings by record ratio" 9/26/2009
"Job seekers now outnumber openings six to one, the worst ratio since the government began tracking open positions in 2000. According to the Labor Department's latest numbers, from July, only 2.4 million full-time permanent jobs were open, with 14.5 million people officially unemployed.
With unemployment at 9.7 percent nationwide, the shortage of paychecks is both a cause and an effect of weak hiring.
Shrinking job opportunities have assailed virtually every industry this year. Even in education and health services — faster-growing areas in which many unemployed people have trained for new careers — job openings have dropped 21 percent this year. Despite the passage of a stimulus spending package aimed at shoring up state and local coffers, government job openings have diminished 17 percent this year."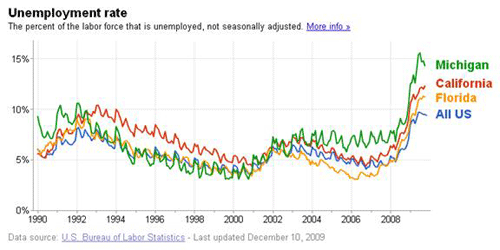 Business cycles are of course unavoidable in dynamic economies, but such a dramatic reversal of fortunes as reported above is seldom seen. Of course, 1997 was close to the peak of the dot.com boom and 2009 was at the bottom of the greatest recession since the great depression.
Such widespread impact of unemployment brings into question the adequacy of the social safety net. About six million Americans (one in 50) receiving food stamps report they have no other income, according to an analysis of state data collected by The New York Times in 2009.
References:
Business Week. "Sign of the times: Help wanted." 11/10/1997.
Google.com. "Unemployment rate.
New York Times. "Living on nothing but food stamps."
New York Times. "US job seekers exceed openings by record ratio." 9/26/2009